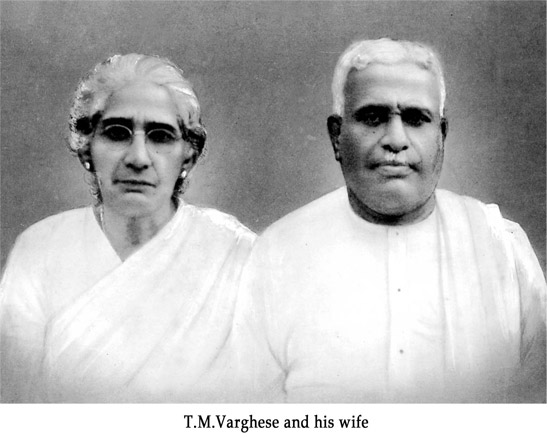 My maternal grand uncle, T M Varghese and wife. (maternal grandmother's just elder brother).

One of the Thrimoorthikal of Kerala ( Pattom Thanu Pillai, C Kesavan and T M Varghese..) and the first home minister of Tirukochi in 1948.
My mother used to speak how during her holidays as a schoolgirl, she loved going from Adoor to Quilon with her mother, to stay at her uncle's place ( T M Varghese). She used to be picked up from the bus stand and taken around Quilon in a Chevorlet in Quilon at that time, 1930s
The life of T M Varghese is also a great example of the value politicians of that time carried in their life ..
He gave up a very promising career and dedicated his whole life for Kerala.. Was instrumental in getting the accession of state of Travancore to India. Reading some historical documents,
a painting of T M Varghese ..
I also get to understand that at the time of leaving his brilliant advocate career in Quilon in the 40s, by revolting against Sir CP, he was earning to the tune of Rs 5000/- yearly, that was quite a princely sum, to say the least.
Towards the end of his career, he had virtually nothing to boast of, all his assets were utilised to support the Travancore State Congress at critical points of time, sometimes even to the extent of three years. The assets were used up over time for the state and its people.

The contribution of T M Varghese will be remembered by the Malayalis for generations to come..


How many of our present day politicians can even remotely come close to the ideals held aloft by our leaders and freedom fighters !!
Most of them use politics as a cushion to protect their ancestral or acquired (mostly illegal wine money, or bribery money or illegally acquired land) wealth from poachers and further to give a legitimacy to the ill-gained wealth.
http://en.wikipedia.org/wiki/T._M._Varghese,_Thandaneth
george..